Albert-Reiner Glaap: In Memorium
Prof. Dr. Albert-Reiner Glaap OBE (1 September 1929 - 24 April 2023) was a foremost scholar of the plays of Alan Ayckbourn and published a number of books about the playwright as well as annotated German editions of the plays.

His major Ayckbourn works include:
A Guided Tour Through Ayckbourn Country
(1999/2004);
New Landmarks in Ayckbourn Country
(2004);
Confusions To Roundelay - Stages In Ayckbourn's Creative Work
(2015);
Towards Ayckbournia in Germany
(2019); all published by Wissenschaftlicher Verlag Trier.

This website is dedicated to his memory.


Obituary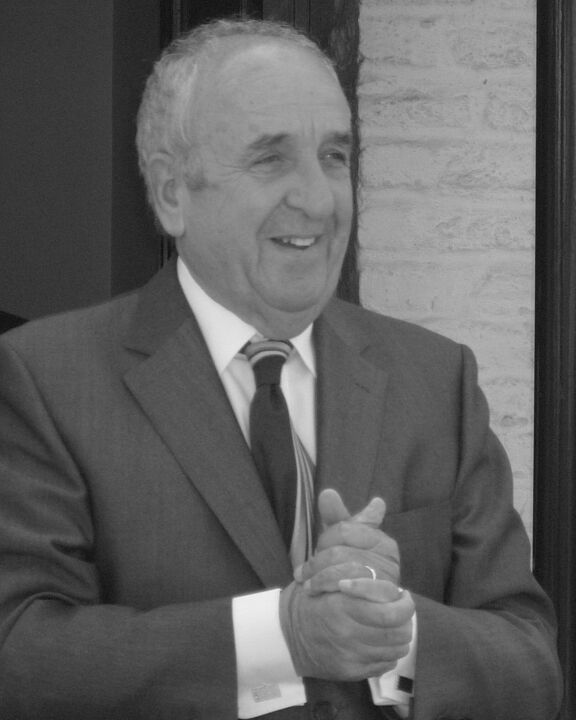 The Heinrich Heine University, the Faculty of Philosophy and the Institute of English and American Studies mourn the loss of Prof. Dr. Albert-Reiner Glaap, who held the Chair of English Language and Literature and its Didactics at HHU Düsseldorf from 1980 to 1994.

Born on 01 September 1929 in Wuppertal-Vohwinkel, Albert-Reiner Glaap studied English language and literature, Latin and philosophy at the University of Cologne and at King's College, London, where he was one of the first German students to arrive after the war.

In Cologne, he received his doctorate in 1955 with his dissertation Bishop Hall's "Virgidemiarum" as Imitatio Juvenals. A contribution to the beginnings of English satire under the supervision of Prof. Dr. Helmut Papajewski and Prof. Dr. Helfried Dahlmann. He graduated in 1956 after a disputation. From 1958 to 1973 he worked as a teacher at the Luisen-Gymnasium Düsseldorf and in 1961/62 at the William Penn Charter School in Philadelphia, PA (USA). With this practical experience from school teaching, he took up the position as head of the Düsseldorf teacher seminar in 1971 and changed as a professor at the University of Education in Neuss in 1973, where he taught and researched until 1980. It was followed by a C4 professorship at the Heinrich Heine University, which he held until his retirement in 1994.

Albert-Reiner Glaap played a decisive role in English at Heinrich Heine University. Together with his Romanesque colleague Prof. Dr. Fritz Nies and with the great support of the then Rector Prof. Hüttenberger, he built up the then diploma course in literary translation, which has existed to this day in the form of a master's degree program and represents a unique selling point of the Faculty of Philosophy of HHU.

His research focuses in the Anglophone theater with special attention to Canada and the United Kingdom always focused on how texts can be made accessible to students and pupils. His special focus on the English playwright Sir Alan Ayckbourn made him one of the world's most recognised experts on this theatre writer. His efforts for the English language, literature and culture were honoured by Queen Elizabeth II in 1991 with his appointment as OBE (Honorary Officer of the Order of the British Empire).

In addition to research interests in Australia, New Zealand and South Africa, Canada was a special focus of his work. Together with playwrights and theater creators in Canada and Germany, Albert-Reiner Glaap not only managed to present numerous books and essays on the Canadian contemporary drama, but also to inspire German theatres for the theatre creation in Canada, which was still quite unknown in Germany, so that a wide variety of plays could be performed on German stages. With works like
Voices from Canada - Focus on Thirty Plays
(Toronto: Playwrights Canada Press 2003) and
Jewish Facets of Contemporary Canadian Dram
a (Trier: Wissenschaftlicher Verlag Trier 2008) he presented decisive works on Canadian theatre, which offer further research opportunities to this day. The latter work was presented when it appeared at the Jewish Museum in Berlin. For his commitment to the Canadian theatre, he was appointed an honorary member of the Playwrights Guild of Canada.

Albert-Reiner Glaap was a scientist with international influence. His scientific publications include 269 essays and articles, nine monographs, 27 edited and edited books, 37 school editions and teacher's booklets, 39 contributions to theatre programs and six published translations. In addition to his lively scientific life and work until the end, he was a member of numerous academic societies, but also of some associations and institutions aimed at the wider public. Above all, the German-British Society Düsseldorf and the International Library Düsseldorf should be mentioned here, in which he was very active for many years.

With Albert-Reiner Glaap, English studies loses a voice that lived long before the buzzwords intersectionality and transculturality. The thinking together of university, school, cultural institutions and society made him a universalist and leaves an effect in many areas of academic and public life.


Dr. Michael Heinze
April 2024


Obituary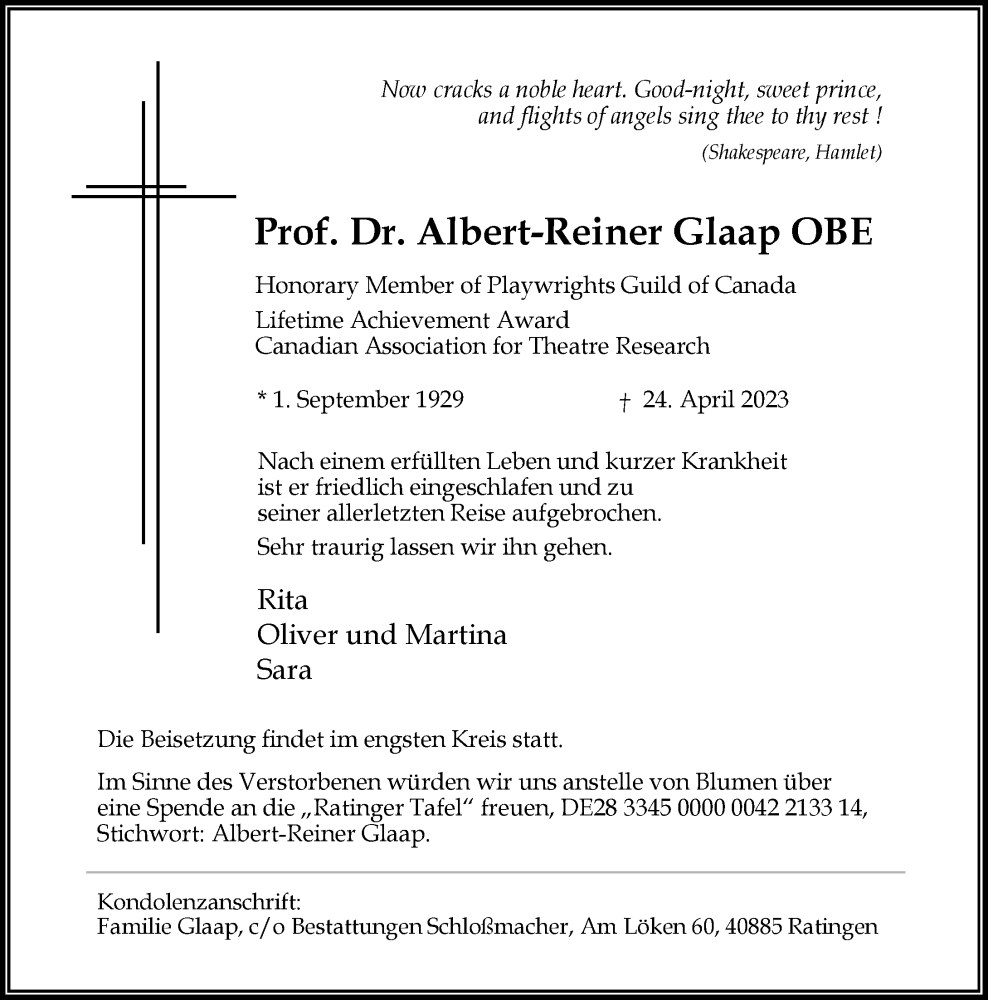 Now cracks a noble heart. Good-night, sweet prince and flights of angels sing thee to rest!
(Shakespeare, Hamlet)
Prof. Dr Albert-Reiner Glaap OBE

Honorary Member of Playwrights Guild of Canada
Lifetime Achievement Award, Canadian Association for Theatre Research

1 September 1929 - 24 April 2023

After a fulfilling life and a short illness, he fell asleep peacefully and embarked on his very last journey. Very sadly we let him go.

Rita
Oliver and Martina
Sara

The burial takes place in an intimate circle.

In honour of the deceased, we would take care of each other in lieu of flowers.