Alan Ayckbourn & Stephen Joseph
The most significant influence on Alan Ayckbourn's life is undoubtedly his mentor Stephen Joseph, who encouraged him to both write and direct. Alan first met Stephen in 1957 when he joined
Studio Theatre Ltd
at Theatre in the Round at the Library Theatre, Scarborough. The relationship between Stephen and Alan which grew from this shaped the course of Alan's life and his contribution to British theatre. These page s offer an insight into Alan's own thoughts on Stephen Joseph.


Alan Ayckbourn's Thoughts on Stephen Joseph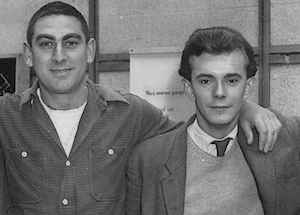 Stephen Joseph
(© Studio Theatre Ltd)
"Perhaps the most enduring description I've ever given of Stephen was that he was half genius, half madman; so in commenting on him in light of being a local hero, it may seem fitting to expand on this contradiction.
"Stephen would appear a shy man when you first met him, always staring at his blotter. But this didn't stop him doing anything and everything in his power to keep a fledgling theatre company alive. He was often busy delivering coal to pay for the theatres rehearsal salaries.
"Stephen was the consummate theatre creature, a pioneer who ran things wholly from within, where he knew you could work it best. At work, habitually dressed in paint-stained overalls, hammer in hand, he looked like some sort of socialist realist poster: a hero of Yorkshire theatre. Whilst on formal occasions, I can remember, in a dinner suit, he didn't half frighten the mayor!
"His professional mentoring of others was never really for self-serving purposes; he simply believed that anybody could more or less do anything in theatre if they wanted to badly enough, and he had such an ability to teach and mentor that has stood many, myself included, in such good career stead.
"Stephen was quite unique in his time in that he made friends with amateurs rather than snubbing them, and involved the local dramatic societies with the professional workings of the early theatre in the round company in various ways. Indeed, he was always urging that theatre be taken into the community, and this is something the theatre named in his memory still endeavours to achieve.
"His passion for theatre in the round and new writing has made Scarborough synonymous with both, and that is truly the lasting legacy of this wonderful, mad, genius of a man."

(Local Heroes, 2005)


"Stephen Joseph was the nearest I have ever met to a creative genius."

(Daily Telegraph, 1975)


"Stephen Joseph started me writing. He was an enormous personality, very generous, and I would call him a great teacher. His quality lay in discovering talent in others - he had this ability to lead people into the right channels, like gently discouraging me as an actor and gently encouraging me as a writer. That was a very shrewd move.
"But he started the Scarborough Theatre Company in the first place as a theatre for new writers. At that time the theatre had very few writing talents, and he set up the company so that it was possible to get new plays put on at an incredibly economic price. Today the economics remain the same - we are in the same job, we carry on that tradition. We have four writers in the [Library Theatre] company.
"He was a man who enjoyed everything in the theatre from the sound effects to the front of house publicity. He was an awful actor and not a good playwright, though he knew a lot about what makes a good play. He was not a good director, though he could have been if he had put his mind to lt. His heart lay in working with young people.
"He was not a conventional man. He always wanted to get another job. He enjoyed the role of being a sort of irritant; he would destroy something that looked like getting a bit too stable. He was very anarchist. He believed that any creative theatre company should reach self-destructlon wlthin ten years.
"He would have blown up Stoke-on-Trent years ago. He was always breaking down to make something new. He would have looked with horror at us planning a permanent theatre in Scarborough. But at the same time, someone has to do it."

(Dartington Hall News, 1976)


"Stephen Joseph was a very big man - he had a very large character. Who else could take an unknown company with unknown plays in an unknown theatre form, to a place like Scarborough, and, eventually, make a go of it? Stephen was a great innovator, a great ideas man, and above all a great teacher. He certainly taught me all the rudiments of playwriting."

(The Stage, 1976)


"Stephen Joseph once told me that there wasn't anything much to directing. 'You just have to create an environment in which people can create.' An easy thing to say, a hell of a thing to accomplish."

(The Observer, 1986)


"Stephen Joseph was one of the great teachers, a man who generated ideas and thoughts. He taught me about the basic rules of playwriting and a lot about directing. He had an irreverence towards the theatre, which is particularly refreshing when you are young. Then you are only in the market for knocking down what is already established and finding exciting new ways for yourself."

(Woman & Home, 1987)


"He was an extraordinary man, a sort of John the Baptist of the theatre. To people my age, 17-18, he was fierce and creative, and above all argumentative. We had a terrible job getting established. We were called everything, including communists. It was a bit like the McCarthy era. But the Crucible Theatre, Sheffield, the Octagon, Bolton and the Chichester Festival Theatre all owed something to Stephen Joseph. The reason that we don't have quite as many stage writers as we should have today is that we don't have as many Stephen Josephs as we should have."

(Evening Sentinel, 1990)


"We [the Stephen Joseph Theatre] were formed by an idiot who believed that new work was important and that this sort of theatre was important!"

(Independent On Sunday, 1995)


"Stephen had an incredible influence on me but so few people know of him now. Young actors ask me who he was, yet he left this enormous legacy. There are open stages across the country as result of this extraordinary man in a beanie hat, leather trousers and large boots who was the scourge of the theatre establishment. He was hated by them."

(The Times, 1996)


"Stephen was very exciting for a young actor, partly because of his complete contempt for theatrical authority. He thought most London theatre was rubbish and had a passion for theatre-in-the-round. He created in Scarborough what he maintained was the first since medieval times - even Shakespeare didn't quite achieve it. At that time it was a very unfashionable idea - critics like Kenneth Tynan wrote some very disparaging things about it."

(Birmingham Post, 1997)


"Stephen was a great anarchist - he once said to me that all theatres should self-destruct within seven years. I don't know whether he meant the building or the company - but he didn't think that artists had very much to say as a group after that time. He would have enjoyed our latest building [the Stephen Joseph Theatre], but he would also have been appalled by the scale of it. He always believed 'small is beautiful'. And he never stayed with things for very long. He'd probably be thinking: '50 years! What are you still doing there? Move on, move on.'"

(Artscene, 2005)


"He was a very eccentric figure. He was also very charismatic - one night, on a civic reception when the Mayor was coming to the theatre, he turned up in a great big jumper and leather trousers - this was in the Fifties! Because of Stephen and because what was happening was so new, we gained this extraordinary reputation. People were saying that we were threatening the status quo - we were even labelled as communists. When you are young it is just what you want - to inspire the disrespect of the establishment. It was very much his company, he was like an absolute hurricane and without him there was a real fear that the theatre would die with him. He had no apparent heir, apart from me. When he was ill I used to sit with him and we would come up with models for the perfect theatre in the round…. For those who knew him, he was dynamic and an inspiration and really affected those around him. It is difficult to calculate his influence, but the fact that he did what he did led directly to the Sheffield Crucible being built the way it was right through to the stages of the National - I think that was all him. On a personal level he had an enormous influence on me. He had the complete, some would say lunatic, disregard in allowing me to write for him."

(Yorkshire Post, 2005)


"Stephen incorporated the writer within the fabric of the company. Shakespeare would not have been unfamiliar with that. But at that time writers were separate people who phoned their stuff in or posted it from the Orkney Islands. You rarely saw them. Stephen was a Renaissance man, very interested in practically everything. He knew more about the art of playwriting than anyone I've met. He knew more about the art of acting than anyone I've met and he knew more about directing. But he wasn't very good at any of them. He was an awful writer but he knew what should be written. He was easily bored but he knew how to delegate, thank goodness, or I would never have got started, and he knew how to inspire."

(The Stage, 2005)


"I met him [Stephen Joseph] at the best stage of my life, the impressionable stage. He was a genuine revolutionary believing in theatre in the round when the establishment pooh-poohed it. In Scarborough, they accused us of being 'communists'. Stephen stripped theatre to the basics. I liked him for his immediacy."

(The Observer, 2005)


"The first time I met him [Stephen Joseph] was probably through my aunt whom I was staying with and she said, 'you know that man you're working for?' And I said, 'what the one who we haven't seen?' and she said, 'well he delivers our coal' and he was doing a coal round. He was earning money in the Chelsea coal round to pay the actors to rehearse in Scarborough. It was a real hand to mouth business and at one stage he sold his motorbike to keep the theatre afloat. He was a pioneer, an exciting man to meet when you're 17."

(Interview, 29 June 2021)


"Stephen Joseph was an exciting man. He was a sort of revolutionary, he introduced new forms of theatre and he had a passion for new work. So the idea that existed then of the dramatist being this remote soul living on the Faroe Islands and positing in a new script was not for him. His idea was the theatre of Shakespeare. The writer was just another member of the team, it didn't matter who they were. We even had a box office manager who was once writing plays, we were all writing. The magic finger pointed at me and he said 'what are you going to write?' I'd already written plays that weren't going anywhere but he was the first person to offer me the chance to write a play with a semi-guarantee that it would be produced the following year, which was enormously helpful. There's nothing like knowing your play's going to go on to bring beads of sweat out on you."

(Yorkshire Post, 2017)


"Stephen Joseph's death was probably the saddest time of my life. That was the death of a rocket, falling into the sea. I guess for many of us, we remember the energy which he lifted us and thank him very much."

(2017)

All quotes on this page are copyright of Haydonning Ltd. Image of Stephen Joseph copyright of Scarborough Theatre Trust. Please do not reproduce without permission.
With thanks to Dr Paul Elsam for his help with the original Stephen Joseph site from which this section of A Round Town was adapted.