The Studio Theatre Company part 2
This article - an edited extract taken from the book Theatre in the Round - by Stephen Joseph looks at the founding and the development of touring from Theatre in the Round at the Library Theatre from 1956, the creation of the UK's first professional theatre in the round venue - The Victoria Theatre in Newcastle-under-Lyme - and the 'closure' of the Scarborough company in 1965. The first of the articles can be found by clicking
here
.


The Studio Theatre Company: Touring and Settling Down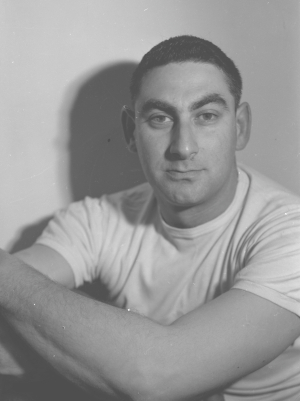 Stephen Joseph
(© Haydonning Ltd)
The Studio Theatre company made its first steps towards touring in a strange way. During our first summer season we received a call for help from a nearby holiday camp. They had booked a small circus to give an afternoon's entertainment; but the circus had cried off; would we go instead? I pointed out that round or not our plays were no substitute for a circus and would probably have little appeal to a holiday-camp crowd. Never mind, this was an emergency, said Mr Wallis, and besides the entertainment was only an insurance against rain. If the weather were fine no one would come anyhow. So we agreed. The dance hall had a convenient dipped area in the middle and by careful arrangement of seating a reasonably satisfactory theatre in the round could be constructed without the use of any rostrums. We presented our current production,
Turn Right at the Crossroads
, an allegorical satire on contemporary society written in modern blank verse. Good, spikey stuff. Morris Perry played the hero, a full length modern Everyman. In rehearsals he had found that he could hardly manage the long speeches, and I recommended him to go into training like an athlete. He did, going for an early morning run throughout the season. The holiday camp audience appreciated his physical skill if not all else. The play suffered from a diffuse construction and several scenes did not work well in our production. During the first of the weak scenes members of the audience started talking; standing at the back of the hall I could soon no longer hear the actors at all. The disaster we deserved, for taking a highbrow play to a lowbrow audience, seemed imminent. The thing would simply have to come to a stop. But the actors persevered into the next scene an exciting one - and the audience swiftly grew quiet. Attention became completely concentrated on the performance. The noise grew again for each weak scene, and dropped as soon as the actors and the playwright really deserved attention. This audience knew by instinct how to criticise a play, and though their criticism may have been expressed crudely, it was surely honest and completely sensible; much more compelling than indifference or the divergent opinions of expert dramatic critics. In the end the play received an ovation and the actors, thoroughly exhausted, knew they had given real pleasure to a good audience.

Mr Wallis commented sensibly and kindly on the performance, and, though we both agreed that our plays were not ideal for the occasion, he asked us to present, each week, our other plays. And again next season. I suspect he did this partly out of gratitude; we had come to his rescue, and he could see clearly enough that we enjoyed the experience.

However, the holiday-camp performances really were inappropriate and we gave them up after two seasons. With many lessons gratefully learned, but with a nagging sense of failure. Why were our performances inappropriate to that audience? Not simply because of the plays nor of the centre stage; I can think of companies that would have been rejected sooner. The question is big, and not simply related to theatre in the round. But we had learned how easy it could be to move the company from one place to another.

In 1956 we acquired, with the help of the Pilgrim Trust, a carefully designed set of folding rostrums that enabled us to convert almost any hall into a theatre in the round. We now formed a touring company. The rostrums were transported on a three-ton lorry. Props, costumes, spotlights and so on were carried in another lorry. We directed our attention primarily towards otherwise theatreless towns, in the hope that there might be a chance of taking root and finding a home where a permanent theatre could be established. The Arts Council helped by giving grants and by advising on likely places to visit. As the touring schedule got going it was linked to the Scarborough summer season and we were able to tour a repertoire of several plays, each of which had been thoroughly rehearsed.The company played in Leicester (then without any professional theatre), Southampton, Hemel Hempstead, Harlow, Birmingham, Newcastle-under-Lyme, Dartington Hall and Hull as well as in London and Scarborough.

Our touring routine was strenuous. After a Saturday-night performance the theatre would be taken to pieces; that is to say all the rostrum units and stage lighting were dismantled and loaded on to the lorries. The stage manager took charge of this operation, assisted by the small technical staff of the company and half a dozen volunteers - local amateur actors (always enthusiastic friends) often enough, or schoolboys. As soon as loading had been completed, usually just after midnight, we set off for the next town on our schedule. We travelled overnight because the roads were emptier and because if the vehicles broke down the delay need not prevent our opening in time. As soon as we arrived at our destination, where volunteer helpers would be waiting, the rostrums and lighting equipment would be set up. By tea-time, with another theatre in the round ready for occupation, everyone wanted nothing more than a good sleep. On Monday afternoon the company rehearsed the play to open that evening.

We usually opened with the play that had been performed at the end of the previous visit. In this way we stumbled on an interesting observation of people's critical faculties. Attendances at performances tended to improve during a visit and we often opened to poor houses and ended up playing to capacity. In each town, knowledgeable people assured us we had chosen the wrong play to open with. But presenting four plays in four weeks in four different places meant that each of the plays opened the season in turn. And the most popular play in one town turned out to be the least successful in the next. Always it is easy to be wise after the event, and the whole theatre business is rich with imponderables that should be simple enough to solve, but we never discovered the ideal play to open with.

In Hemel Hempstead the dressing room had to be shared with a baby clinic. There was often fierce competition for space, and orange juice got featured on the make-up tables. Everyone, though, was cheerfully tolerant, and our several visits were always enjoyable. There seemed to be something very right in bringing a new form of theatre to a new town. Indeed, for a time it seemed likely that either Hemel Hempstead or Harlow might actually build a theatre in the round. But for such a large-scale venture, even a new town must in the end accept the more common tradition of a picture frame stage. And our plans never got very far.

One of the plays we first presented had an interesting background. Written by a young man I had known when he was a student at the Central School, it had been performed at the Lyric Theatre, in Hammersmith, and, though provoking interested notices, it had been withdrawn after five days. The play baffled me, but it also attracted me strongly and I asked the author to produce it for us. He agreed.

And the company embarked on a fascinating production of
The Birthday Party
, directed by Harold Pinter. The actors enjoyed working with him. He knew precisely how they felt about the play, and precisely how to help them. He seldom tried to explain "obscurities" but instead showed the actors how to do the action, thus giving even the most baffling parts of the play a conviction and organic logic of their own. It played to very thin houses in Birmingham, aroused some protest in Leicester and was instrumental in getting television companies interested in the author. The opening scene was later presented at a charity midnight performance in Scarborough, where, sandwiched between variety acts it was completely successful.

The touring schedule grew so that in 1960 the company worked for nearly a full year. This meant that many actors stayed with the company for more than one season and benefited from the continuous experience. New actors gained from the experience of others. The tours also had their own attraction. All over the country people had read about theatre in the round and other new forms of theatre, and seized the opportunity to see what it meant in action. In 1960 we received a generous donation from the Gulbenkian Foundation to help improve the scope and standard of our schedule and productions. We were now able to rehearse for three weeks or more, to add another actor to the company, and to improve advertising and public relations.

A small theatre company such as ours could not be expected to pay high salaries. But precisely how low they have been, few people realise. Much publicity is given to the fantastic salaries of film stars and top entertainers. A rich impression is liable to rub off on to all actors. Our policy was to give everyone the same wages. Ten pounds a week. No overtime pay, but plenty of overtime work. Travelling expenses paid, but virtually no other privileges or perks. The only actors who got less than this were complete beginners, taken on as students, and we seldom accepted such beginners because every member of the small company had to undertake a full burden of responsibility. The only people to get more were married actors, who were paid £15, unless both husband and wife worked for the company - often a happier alternative. Not only have many people taken it for granted that our salaries have been high, but an even larger number have taken it for granted that an actor's life is an easy one; after all, he only does a few hours work each evening. These misunderstandings arise, of course, to face all small theatre companies. The central stage makes no difference here. But we often resented the airy expressions of envy we met for our easy-going lives.

Proposals for a permanent theatre in the round had been discussed for several years in Scarborough, but it seemed unlikely in a town where the main industry was entertainment that anything approaching civic support could ever be given to a theatre. Various improvements were made to the concert room so that it could more readily serve our purpose. But the concert room did not belong to us, and we could hardly expect it ever to be more than a makeshift theatre.

Our visits to the Municipal Hall in Newcastle-under-Lyme carried a real hope from the start that a permanent theatre might be established here. There had once been a flourishing Georgian theatre that had closed when the larger Victorian theatres opened in the neighbouring Potteries towns. The building had been converted into a cinema and now stood empty, dilapidated and virtually unusable. No one planning a permanent theatre (in the round or any other sort) could fail to note that even the theatres that had replaced the old Royal were now themselves either cinemas or empty shells. The only remaining professional playhouse in the area was the Theatre Royal in Hanley, which had been rebuilt in 1956 after a fire. Its re-opening had been an opportunity for much celebration and it was even called the finest theatre in the provinces. It ceased to be a playhouse in 1962 and turned over to the current craze for bingo. Permanence in the theatre is an elastic concept.

In Newcastle we had the help and advice of Charles Lister, the Borough Treasurer, who himself wanted to see a civic theatre established. He looked at our accounts with great care, came to see every play, and discussed with us al the important financial, artistic and social implications of theatre. In 1962 the final proposals for a civic theatre gained the support of a majority in the council chamber.

But the plans collapsed at last against an unexpected obstacle put in their way by the Minister of Housing and Local Government. In technical terms, loan sanction was refused. But by the time the fatal blow was delivered, we had already undertaken to establish a company in temporary premises so that an audience could be built up and a policy established by trial and error for the new theatre. Ironically, too, the premises we finally found were just over the border that separates Newcastle from Stoke. For Charles Lister this must have added insult to injury. But our audience had to come from a wide area and the theatre would have to serve the whole of the Potteries, indeed the whole of North Staffordshire, and from this point of view the position carried no disadvantages.

The Victoria Theatre had been built as a small cinema, serving an artisan residential locality, on the main road between Stoke and Newcastle. The site unfortunately included no car parking facilities, and the frontage could never be anything but modest. But in many ways the building itself seemed ideal for conversion. Several plans were drawn up. We had only a few pounds available and a few promises. At worst we could simply clear away the debris and set up our portable rostrum units as soon as the Scarborough season had finished. But generous help came from William Elmhirst and Miss Margaret Rawlings; Granada Television offered us surplus seating from their cinemas; ABC Television presented us with a cheque for £700; and the Gulbenkian Foundation paid for much-needed decoration in the foyer. We were able to embark on a fairly substantial scheme of alterations. Our architect, Peter Fisher, took full charge of the conversion while the summer season kept us at Scarborough. He drew up plans for permanent seating rows, the construction of dressing rooms, an extensive control room and arrangements to put at any rate some spotlights in the roof void. The work had to be carefully discussed and detailed if it were to be completed in time for the Scarborough company to move in. Experienced theatre people whose advice we sought were mostly discouraging. And the familiar arguments that no theatre could succeed in the Potteries were reinforced by the unlikeliness of the place. And we were told authoritatively that the conversion plans could not be completed in the time available. Fortunately everything went smoothly enough.

The Victoria Theatre opened on 9 October 1962 with a performance of
The Birds and the Wellwishers
, a play by William Norfolk that had been among the new productions at Scarborough. Directed by Peter Cheeseman, the play gave good comic opportunities to Alan Ayckbourn as an earnest do-it-yourself clerk and to an adenoidal Elizabeth Bell as a romantically minded telephonist. The author had written the play with a fine sense of humour that appealed strongly to young people. In some ways it was a good play to open with. Thoroughly entertaining, well acted, unconventional. It attracted people with bright minds, or with a simple desire to enjoy themselves. It did not attract people looking for second-hand West End successes, nor the dramatic critics who were invited and, for reasons unknown, did not come. Was it the new play or the new theatre that kept them away? The following plays included Pinter's
The Caretaker
and David Campton's adaptation, from Poe, of
Usher
. These plays established the fact that the Victoria Theatre had decided to look for a young audience or an audience of any age that did not have too stereotyped a notion of what a play should be.

Peter Cheeseman assumed the job of manager, in charge of the Victoria Theatre, with a free hand and the responsibility to get the thing going. No easy task. If in an area as highly populated as the Potteries there is no theatre and if, further, a few years ago there used to be several theatres, it is not a rash conclusion that the people don't want a theatre and know they don't want one. Obviously the situation is not as simple as that. Perhaps the theatres were too big, or had the wrong policy, or were in one way or another out of date or otherwise unsuitable. But the Victoria Theatre, no matter how much it tried to avoid mistakes could not escape the disadvantages of its situation, its lack of car-parking facilities, the sheer simplicity (to use a polite word) of its conversion, and above all the known fact that a theatre is not for the likes of us (as it were). But Cheeseman set about the task of winning an audience with huge enthusiasm and bristling energy. Results so far: a young audience, growing attendance figures and some interesting successes - notably Marlowe's The Jew of Malta, Brian Way's Pinocchio and the theatre's own musical entertainment called
The Jolly Potters
.

The Victoria Theatre did not become, as had once been envisaged, a good base from which the touring company could set out on its travels. The main reasons for our finally changing our minds about this were, firstly, the absence of storage facilities at the new theatre and in its neighbourhood. Secondly, the financial complications of running a summer season, a touring schedule, and a permanent theatre alarmed various people concerned with our finances: particularly the Arts Council and several local authorities who contributed to our income. Finally, any repertory company is likely to find that it grows into the habits and affections of local people: a visiting company (while the main company were on tour) could not command the same respect. The financial pressures were decisive and the directors of the Studio Theatre company reluctantly abandoned Scarborough and the touring company… though the touring programme vanished, Scarborough could not be abandoned at once and a new company, the Scarborough Theatre Trust, took over responsibilities there.

The new company in Scarborough immediately tried to put the summer seasons on a firmer footing, by negotiating a regular booking at the Library, by making improvements to the theatre and its facilities, and by seeking co-operation with the local authority in the shape of a regular financial grant, of help with publicity, ticket sales and drawing attention to the existence and place of the theatre. The corporation were prepared to give a grant, but only on an annual basis, without any undertaking to repeat it; and they blew hot and cold on each and every other proposal. The odd thing about Scarborough is that the corporation runs its own theatres and puts on its own entertainments, and they have never decided if we are a rival company that should be driven out of town, or a good addition to the wide range of attractions that a seaside town wants to boast of.

Somewhere between these two extremes is the position from which no action is taken. And, after another two seasons, it became clear that a place that was admirable for the first steps, had been outgrown entirely; and just as there is discomfort in wearing clothes that are too small, and embarrassment in wearing fashions that have just gone out, so the company felt increasingly uncomfortable and unhappy at the Library. We wanted to develop in every way, and, if this was not possible, the sensible alternative seemed to be to abandon Scarborough altogether. *

The Stoke theatre has amore promising outlook, but there is no guarantee of permanence. In some ways the element of chanciness encourages hard work, but it also prevents the development of standards and the growth of policy. A now or never situation is unlikely to help artists who are growing in skill and experience. I have learned a good deal from the Victoria Theatre and from the Studio Theatre Ltd, and I am beginning to believe that if theatre in the round is to become, in a significant way, accepted by professional theatre people it will have to be on a grander scale than anything I have done so far.


* Editor's Note:
At the conclusion of the 1965 summer season, Stephen Joseph announced Theatre in the Round at the Library Theatre was to permanently close and Scarborough Theatre Trust's only role was to find a new venue for the company, either in or outside of Scarborough; ironically, this had been most successful season yet in Scarborough and which had seen the world premiere of Alan Ayckbourn's play
Relatively Speaking
. The theatre manager Ken Boden organised an amateur in-the-round season fro 1966 before persuading Stephen Joseph to let a professional company resume in 1967. Stephen agreed, but by this point was terminally ill with cancer. Theatre in the Round at the Library Theatre re-opened in the summer of 1967 but, tragically, Stephen died in October of the same year. Further details can be found in the Theatre in the Round at the Library Theatre
chronology
.