Alan Ayckbourn & Theatre in the Round: A Biography
This page offers a biographical look at Alan Ayckbourn's connection with theatre in the round in Scarborough from 1959 to 2009, when he retired as Artistic Director of the company. A full biography of his life and achievements can be found on his official website
here
.


Alan Ayckbourn & Theatre in the Round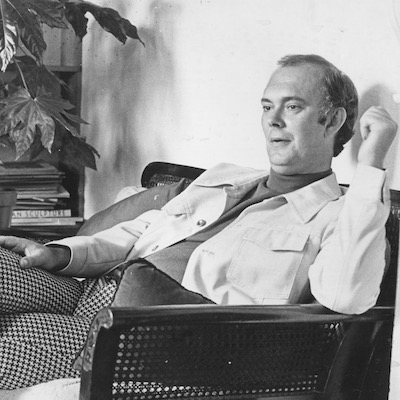 Alan Ayckbourn
(© Haydonning Ltd)
Alan Ayckbourn joined Theatre in the Round at the Library Theatre, Scarborough, in 1957 as an
acting
stage manager (a stage manager with occasional acting roles), two years after the company had been formed by
Stephen Joseph
and a year after he had left school at Haileybury. He quickly formed a close relationship with Stephen, who he came to regard as a father figure and who became the single most influential and inspirational figure in his life.

Encouraged by Stephen, Alan began
writing
professionally for Theatre in the Round at the Library Theatre in 1959 and
directing
in 1961; Alan thinks Stephen rightly perceived he should be steered away from acting. Alan was a constant part of the company from 1957 until 1962 and during this period, he acted, stage-managed, handled light and sound, wrote and directed.

When Stephen Joseph founded the UK's first purpose built theatre-in-the-round venue at the Victoria Theatre, Stoke-on-Trent, Alan left with Stephen to become a founding member of the company. There he wrote, directed and acted until he left in 1965 to become a radio drama producer for the
BBC
, based in Leeds.

Alan kept close links with Scarborough though and despite working for the BBC began writing for Scarborough again in 1965 with the play
Meet My Father
- which retitled
Relatively Speaking
would become his first major success.

Stephen Joseph died in Scarborough in 1967, which was a huge blow to Alan and he - alongside several other key people - was instrumental in keeping Theatre in the Round at the Library Theatre operating during this difficult period. Between 1967 and 1972, the venue operated only on a seasonal basis for the summer and a temporary post of Director of Productions was appointed to oversee the theatre during each season. Alan held this post in both 1969 and 1970 with Caroline Smith taking over in 1971. In 1972, having been appointed Director of Productions for the summer season, Alan was then asked to take on the permanent position of Artistic Director of the venue, a role which he held until 2009.

Alan was 33 at this point and was offered, as he put it, the keys to the toy-box. But, more importantly, he believed it was important to preserve Stephen Joseph's legacy and achievements and to keep the company he founded in Scarborough alive. At a point where he could easily have chosen to go to any theatre in the UK or just concentrate ion his burgeoning - and financially very rewarding - West End career. Instead, he dedicated himself to a regional theatre on the Yorkshire Coast and followed in Stephen's footsteps by championing new writing, new writers, regional theatre and theatre in the round.

It should noted that although Alan's role was officially Artistic Director, he initially disliked the term and referred to himself as the Director of Productions - the title Stephen Joseph used - from 1972 to 1988, after which he used the term Artistic Director. It is worth noting this website refers to Alan as Artistic Director (from 1972 to 2009) to differentiate from when he was the seasonally appointed Director Of Productions between 1969 and 1970.

Alan's 37 year tenure as Artistic Director saw him continue Stephen Joseph's commitment to encourage new writing and playwrights. As Artistic Director, he was not only responsible for the programming and direction of the theatre, but was also the predominant director of plays at the venue between 1972 and 1999. He was also writing new plays and premiering them at the theatre.

As Artistic Director, Alan was responsible for moving the company to two new homes. The first in 1976 was Theatre in the Round at Westwood (later renamed the
Stephen Joseph Theatre In The Round
in honour of the company's founder), which was based at the former Westwood County Modern School beneath Valley Bridge in Scarborough; this was supposed to only be a temporary home for the company after it was asked to leave the library after twenty years. Unfortunately, economics and politics meant plans to build a purpose built home for the company were not realised for another twenty years.

Over the next decade, Alan established a year-round theatre (he had re-introduced winter seasons in 1974 at Theatre in the Round at the Library Theatre) and expanded the output with the introduction of a small studio theatre, predominantly used for lunchtime and late night shows where new writing was also common. Touring also become important and became increasingly ambitious, working in tandem with the British Council to send the council across Europe and even to Canada. The output of the company also expanded with concerts, exhibitions and other events.

Between 1986 and 1988, Alan Ayckbourn stepped down from the day-to-day running of the Stephen Joseph Theatre In The Round to take a sabbatical, feeling after 14 years as Artistic Director he needed to recharge his creative batteries. He joined the
National Theatre
as a company director at the invitation of Sir Peter Hall, where he received great acclaim as a director for his production of Arthur Miller's
A View From The Bridge
as well as for his own play
A Small Family Business
. Alan remained Artistic Director of the Stephen Joseph Theatre In The Round throughout this period - despite inaccurate and unsubstantiated reports in the media he was to leave Scarborough - with Robin Herford sharing the title and taking over the programming, daily running and directing duties; Alan also continued to premiere and direct his new plays there. Alan returned to the Stephen Joseph Theatre In The Round in 1988 reinvigorated and soon found himself involved in his most challenging project yet, the redevelopment of the former
Odeon
cinema to become a purpose built venue for the company.

In 1996, after more than six years fund-raising and work, Alan and the company moved to the
Stephen Joseph Theatre
, a building boasting state of the art facilities and the first purpose built and permanent home for the company since it was created forty years earlier. Although he would be as active as ever in the first few years - which encompassed a major funding crisis which made national news - he announced in 1999 that he would begun to restrict his directing duties purely to his own plays.

In February 2006, Alan suffered a stroke and was away from the theatre for six months. He returned in October 2006 to direct his latest play
If I Were You
, but on 23 May 2007 he announced he would be stepping down as Artistic Director in 2009. During the following 18 months, the groundwork was laid for the transition to a new Artistic Director and on 30 May 2008 it was announced Chris Monks would take over the position. Alan's final play as Artistic Director was his own musical
Awaking Beauty
which premiered in December 2008. The play closed on 17 January 2009 and on 1 April 2009, Alan Ayckbourn officially stepped down as Artistic Director of the Stephen Joseph Theatre, having held the role with the company for 37 years and guided it through three homes.

Despite stepping down as Artistic Director, Alan has kept close ties with the company and continues to premiere his new plays in Scarborough where he is employed as a guest director directing world premieres of his work. In 2018, to mark his contributions to the Stephen Joseph Theatre over the decades, Alan was named the Director Emeritus of the company.


Article by Simon Murgatroyd. Copyright: Haydonning Ltd. Please do not reproduce without permission of the copyright holder.