Alan Ayckbourn: Playwright, Director & Artistic Director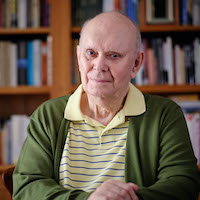 Alan Ayckbourn
(© Tony Bartholomew)
Alan Ayckbourn is an award-winning playwright and director who is regarded as one of the most successful British playwrights of the late 20th century. His work has been produced at the National Theatre, the RSC and around the world; his plays have been translated into more than 35 languages.

He has received numerous honours and awards and was the first playwright to receive both the Tony and the Olivier Special Awards and was also knighted for Services to Theatre.

He is the protege of Stephen Joseph, who encouraged him to both write and direct when Alan joined Stephen's company non Scarborough in 1957. Alan has been associated with theatre in the round and Scarborough since the and is a passionate advocate and champion of both regional theatre and new writing.

In 1972, he was appointed the Artistic Director of Theatre in the Round at the Library Theatre and held the position with the company for 37 years until his retirement in 2009. During this period, he ensured Stephen Joseph's legacy continued and survived and saw theatre in the round in Scarborough receive international recognition for its achievements.
Alan Ayckbourn & Scarborough
Working at Theatre in the Round
All original material within this website © Simon Murgatroyd Ltd except where noted all rights reserved.