Who Was Stephen Joseph?
By Simon Murgatroyd

It's a fair question. Who was Stephen Joseph? Even in Scarborough, where a theatre bears his name, the majority of people would not be able to tell you who he was or why he's significant in British theatre.

Stephen Joseph is essentially one of the great unsung heroes in British theatre during the 1950s and 1960s. He was responsible for pioneering new theatre forms in this country and was a passionate advocate of new writing and new playwrights.

He is also, even within theatre circles, largely unrecognised for his achievements.

But perhaps who he is, is less important than what he represented and what he achieved. The facts about Stephen's life can easily be found, but it is why Stephen Joseph is important and significant to Scarborough and British theatre that is the more pertinent and relevant question.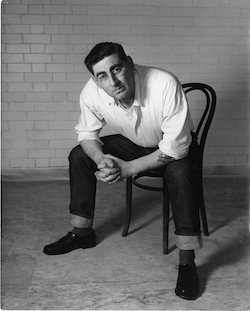 Stephen Joseph
(© Studio Theatre Ltd)
He was a pioneer.
During the early 1950s, Stephen Joseph was passionately advocating new theatre forms. In a country dominated by a staid reliance on proscenium arch, Stephen believed in change. Having seen theatre-in-the-round whilst studying in North America, he believed this was an appealing form of theatre - largely lost in the UK - which was exciting, immediate and could attract people back to the theatre lost to the emergent television. In 1955, he formed the UK's first professional theatre-in-the-round company at Theatre in the Round at the Library Theatre, Scarborough, and in 1962 opened the first dedicated professional theatre-in-the-round venue in the UK at the Victoria Theatre, Stoke-on-Trent.


A risk-taker.
Stephen Joseph's other passion was new writing and encouraging new playwrights. At the time, few companies supported the idea of new playwriting and the Royal Court, long considered to be the bastion of new British writing, did not open until 1956. Stephen considered the biggest problem with producing new writing was the cost; the greater the cost, the larger the risk. But he had a solution with theatre-in-the-round, which was a cost-effective method of producing work with minimal props and set. He saw it as the solution to the problem of new writing and, having set up Theatre in the Round at the Library Theatre, its primary aim was to promote this. In the first year of operation, it produced four new plays by unknown writers. During the first two years of the theatre's existence, 8 out of the 10 plays produced were new and - even despite this - the theatre became self-supporting by its third year. New writing was a risk but a risk worth taking and one Stephen believed all theatres should be encouraged to take.


A radical.
Stephen though everyone was capable of writing and encouraged practically all within Theatre in the Round at the Library Theatre company to try their hand at it. He cared less for who wrote than what they wrote and this was a radical proposition for the time. During the first season, three of the four plays were written by women. Of the 18 new plays produced by Theatre in the Round at the Library Theatre between 1955 and 1958, eight were written by women. No other professional theatre or theatre producer of the period in the UK could say the same. Equally age was no barrier, in 1959 Stephen premiered plays by his youngest and oldest playwright. The youngest, Alan Ayckbourn, was just 18. The eldest, Hilda Valentine, was apparently in her 80s. Stephen did not care for convention or tradition, he was a radical who believed theatre could and should be embraced by all and actively encouraged that philosophy.


An innovator.
Stephen Joseph was not one for looking back and his instinct was to perpetually move forward looking for the next challenge. Having founded Theatre in the Round at the Library Theatre in 1955, he spent much of the next few years taking the company on winter tours hoping to find a town which would build him a permanent theatre-in-the-round. Once he had achieved that in 1962 in Stoke-on-Trent, he looked to further spread his views on theatre design and to influence how future venues were built. To this end, he was the co- founder of the British Association of Theatre Technicians as well as the Society of Theatre Consultants; both of which became influential in the creation of many of the UK's most significant theatres.


A teacher.
Alan Ayckbourn once described Stephen Joseph as one of the most knowledgable people about theatre he had ever met and a great teacher. Stephen was a natural teacher who enjoyed passing on his wide-ranging experience and knowledge to as wide a circle as possible. In 1964, he became a lecturer at the University Of Manchester and was instrumental in shaping the institution's drama department. More than that, he taught and spoke widely about theatre, from weekend seminars to radio broadcasts, post-show discussions to writing several books about new theatre forms and the history of theatre in England.


An anti-establishment figure.
Many people have become famous for far less than what Stephen achieved, yet he never received the recognition he deserved during his life. Arguably, much of this is due to the fact he was a polarising, anti-establishment figure with strong views, always ready to argue his case and break with tradition. He was an advocate of regional theatre and the important place it played in the community. None of which endeared him to the London-centric theatre mainstream of the period. He believed theatre was something which should be enjoyed and participated in by all walks of life. At Theatre in the Round at the Library Theatre, amateur and professionals worked together to run the theatre and keep it financially viable and Stephen encouraged amateur productions during the periods when the professional company was not performing. Stephen wanted to break down the barriers in the theatre world and opposed elitism in the arts; he championed democratisation of the theatre.


An inspiration.
Perhaps most importantly of all, Stephen Joseph inspired people. Many theatre practitioners and people who just came across him have spoken about how inspirational Stephen was. His passion for theatre and exciting ideas garnered him a loyalty which is still held by many people who knew him today. His most visible and direct inspiration though is that of his prot
é
g
e
Alan Ayckbourn. Alan met Stephen at the age of 18 as a stage manager and actor. It was Stephen who gave him his break as both writer and director, nurturing and encouraging the young talent. Stephen Joseph inspired one of the most successful and key figures of twentieth century playwriting and who, in turn, was the person who took over Stephen's company and vision after he died in 1967. Alan Ayckbourn ensured Stephen Joseph's legacy lived on to continue to inspire others.

Stephen Joseph was all these things and much more. For Scarborough though, his legacy is establishing a regional theatre which has thrived and became one of the most significant new writing theatres in the UK.


Article by and copyright of Simon Murgatroyd. Please do not reproduce without permission of the copyright holder.